His tennis apart, Novak Djokovic is often in the news for his philanthropic deeds. The foundation that the Serb lends his name to has drawn wholesome praise for its work with needy children and their families.
His wealth and fame has also helped him foray into business.
The Serb owns a restaurant in addition to holding other business interests.
Always a pleasure sharing the court with you Sasha @AlexZverev. Great ending of the season for you. Best wishes in what awaits you on and off the court. Stay strong.
Happy to qualify for Semi-finals in the last year of #ATPFinals here in O2. Idemooo for tomorrow 💪🙏 pic.twitter.com/4xs86RpK1R
— Novak Djokovic (@DjokerNole) November 20, 2020
Novak Djokovic excited to introduce innovative climbing device
While not losing sight of his tennis goals, Djokovic has set sights on indulging his entrepreneurial side yet again.
In the latest addition to his expanding business profile, the tennis superstar has entered into an entrepreneurial tie-up with rapper Jay-Z.
Serbia's Novak Djokovic celebrates after winning his group stage match against Argentina's Diego Schwartzman Action Images via Reuters/Paul Childs
He will partner the billionaire record producer and investor to launch a new fitness brand – CLMBR.
Read More: "Don't Want to Put an Expiry Date": Novak Djokovic Gives Huge Update on Retirement
The climbing devices have been designed in a manner to help people strive for fitness in the comfort of their homes.
Novak lists benefits of new fitness brand
A press statement quoting Djokovic read, "Vertical climbing has been known to be an incredibly efficient total body workout without impact. In addition, it puts your body in a neutral spine alignment, which is important for me as an athlete."
Their energy, enthusiasm and joy have always been our biggest motivation. The team that believes in their dreams is growing every day and we are so grateful that with your support we have built 45 preschools in Serbia so far. Best is yet to come. ❤️
Happy #WorldChildrenDay! pic.twitter.com/6K5pBJaBgO
— Novak Djokovic Foundation (@novakfoundation) November 20, 2020
He said he was excited with this venture and hoped people across the globe would find the home workout device helpful.
Djokovic also detailed where their brand stands out from other fitness aides.
Djokovic-Jay-Z: An exciting doubles partnership
"The on-demand classes and programmatic workouts are a huge bonus!
"I'm excited to be part of this team and look forward to sharing this fun and powerful workout with the world," the 17-time Grand Slam winner said.
The brand will launch its first two products – CLMBR Connected and CLMBR Pure – in 2021. Djokovic and Jay-Z will join the brand's investment team.
Avrum Elmakis, founder and CEO of CLMBR, said, "We're excited to work with Jay-Z and Novak to bring the best modality in fitness to consumers."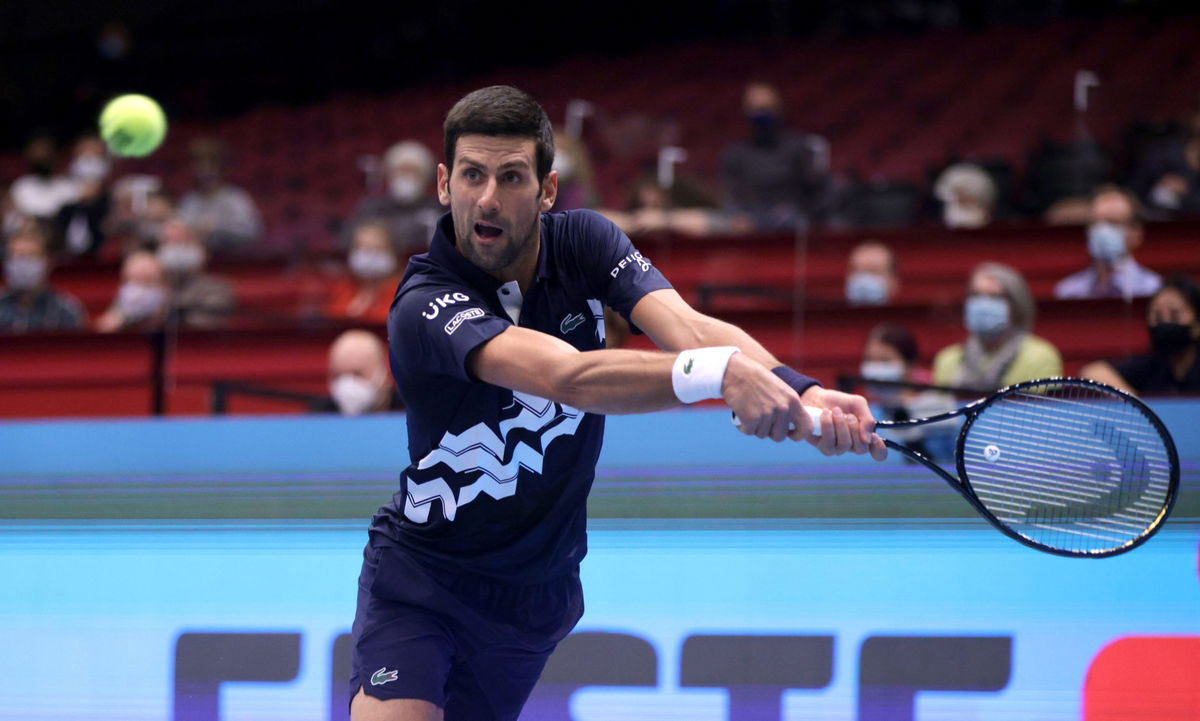 Novak Djokovic in action during his first round match against Serbia's Filip Krajinovic REUTERS/Lisi Niesner
Currently the top-ranked in the world, Djokovic is currently bidding for his sixth ATP Finals title. Djokovic clinched his 17th Grand Slam at the Australian Open this year.